N
OW Abraham was old; and advanced in age: and the Lord had blessed him in all things.
2
And he said to the elder servant of his house, who was ruler over all he had: Put thy hand under my thigh,
---
Ver. 2. Servant. Eliezer, or Damascus, whom he had once intended for his heir. C. xv. 2. H.
--- Under, &c. either to shew their subjection, (Sa.) or their faith in Christ, who should be born of Abraham, (S. Jer. ep. 140) or to testify that their oath shall be no less binding than the covenant of circumcision. For this last reason, the Jews still observe the custom of sitting upon the hand of the person who takes an oath. M. See C. xlvii. 29. where Jacob imitates the action of his grand-father. These two patriarchs, progenitors of Christ are the only ones in Scripture whom we find practising it; whence S. Aug. and S. Ambrose conclude, that it had a reference to the mysterious birth or our Redeemer. Bonfrere.
---
---

---
3
That I may make thee swear by the Lord the God of heaven and earth, that thou take not a wife for my son, of the daughters of the Chanaanites, among whom I dwell:
4
But that thou go to my own country and kindred, and take a wife from thence for my son Isaac.
---
Ver. 4. Country. Huran, where Abraham had dwelt with Thare, &c. There Nachor's family still resided, and had more respect for the true God than the Chanaanites, (H.) though they gave way to some sort of idolatry. M.
--- Hence Abraham was in hopes that a partner worthy of Isaac might be found among his relations, better than among those devoted nations; and thus he has left an instruction to all parents, to be solicitous for the real welfare of their children; and to dissuade them earnestly from marrying with infidels; a thing which God forbade in the old law, as the Church still does in the new. H.
---
5
The servant answered: If the woman will not come with me into this land, must I bring thy son back again to the place, from whence thou camest out?
---
Ver. 5. If the woman. Thus he shews his religious respect for an oath; and will not depend on his own explanation of the sense of it. C.
---
6
And Abraham said: Beware thou never bring my son back again thither.
7
The Lord God of heaven, who took me out of my father's house, and out of my native country, who spoke to me, and swore to me, saying:

To thy seed will I give this land: he will send his angel before thee, and thou shalt take from thence a wife for my son.
---
Ver. 7. He will send his angel before thee. This shews that the Hebrews believed that God gave them guardian angels for their protection. Ch.
--- Angel. A proof of the antiquity of our belief respecting angel guardians. C.
---
---

---
8
But if the woman will not follow thee, thou shalt not be bound by the oath; only bring not my son back thither again.
9
The servant therefore put his hand under the thigh of Abraham his lord, and swore to him upon this word.
10
And he took ten camels of his master's herd, and departed, carrying something of all his goods with him, and he set forward and went on to Mesopotamia to the city of Nachor.
11
And when he had made the camels lie down without the town near a well of water in the evening, at the time when women are wont to come out to draw water, he said:
12
O Lord the God of my master Abraham, meet me to day, I beseech thee, and shew kindness to my master Abraham.
13
Behold I stand nigh the spring of water, and the daughters of the inhabitants of this city will come out to draw water.
14
Now, therefore, the maid to whom I shall say: Let down thy pitcher that I may drink: and she shall answer, Drink, and I will give thy camels drink also: let it be the same whom thou hast provided for thy servant Isaac: and by this I shall understand, that thou hast shown kindness to my master.
---
Ver. 14. By this. He chose a mark which would manifest the kindness and humility of the maid, who would be a fit match for the pious Isaac. This was no vain observation. God heard his fervent prayer. S. Chrys. C.
--- It is sometimes lawful to ask a sign or miracle of God. Acts i. 24. iv. 30. 1 K. xiv. &c.; but we must carefully avoid whatever the Church disapproves. S. Aug. de Gen. ii. 17. xii. 22. W.
---
15
He had not yet ended these words within himself, and behold Rebecca came out, the daughter of Bathuel, son of Melcha, wife to Nachor the brother of Abraham, having a pitcher on her shoulder:
---

---
16
An exceedingly comely maid, and a most beautiful virgin, and not known to man: and she went down to the spring, and filled her pitcher and was coming back.
---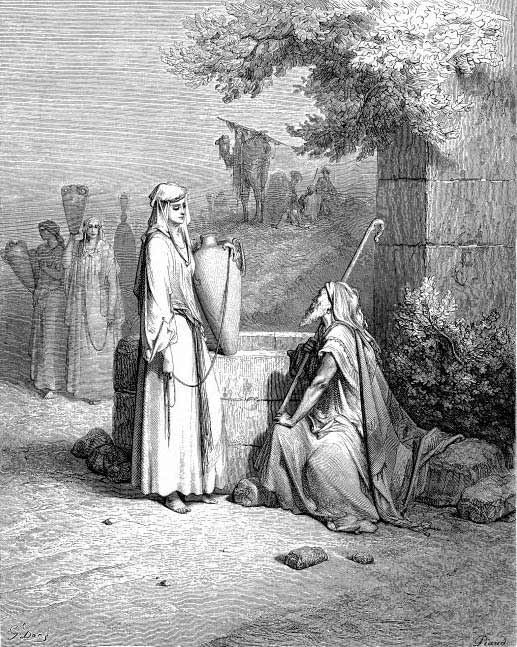 ---
17
And the servant ran to meet her, and said: Give me a little water to drink of thy pitcher.
---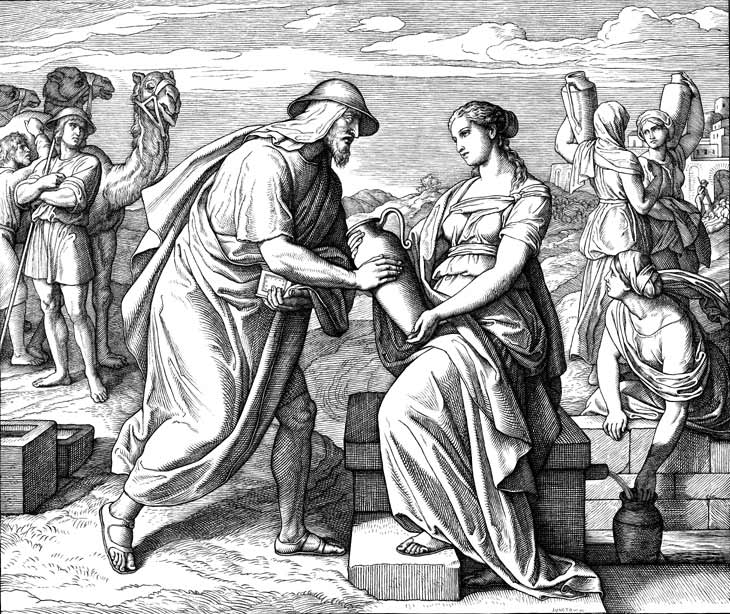 ---
18
And she answered: Drink, my lord. And quickly she let down the pitcher upon her arm, and gave him drink.
19
And when he had drunk, she said: I will draw water for thy camels also, till they all drink.
20
And pouring out the pitcher into the troughs, she ran back to the well to draw water: and having drawn she gave to all the camels.
21
But he musing beheld her with silence, desirous to know whether the Lord had made his journey prosperous or not.
---
Ver. 21. To know, though he was now almost convinced, that this obliging virgin was the person of whom he was in quest; and hence he proceeds to make her presents of great value. H.
---
22
And after that the camels had drunk, the man took out golden earrings, weighing two sicles: and as many bracelets of ten sicles weight.
23
And he said to her: Whose daughter art thou? tell me: is there any place in thy father's house to lodge?
24
And she answered: I am the daughter of Bathuel, the son of Melcha, whom she bore to Nachor.
25
And she said moreover to him: We have good store of both straw and hay, and a large place to lodge in.
26
The man bowed himself down, and adored the Lord,
27
Saying: Blessed be the Lord God of my master Abraham, who hath not taken away his mercy and truth from my master, and hath brought me the straight way into the house of my master's brother.
---
Ver. 27. Mercy and truth: or a real kindness, so often mentioned in the Psalms. C.
---
28
Then the maid ran, and told in her mother's house, all that she had heard.
29
And Rebecca had a brother named Laban, who went out in haste to the man, to the well.
30
And when he had seen the earrings and bracelets in his sister's hands, and had heard all that she related, saying: Thus and thus the man spoke to me: he came to the man who stood by the camels, and near to the spring of water,
31
And said to him: Come in, thou blessed of the Lord: why standest thou without? I have prepared the house, and a place for the camels.
32
And he brought him in into his lodging: and he unharnessed the camels and gave straw and hay, and water to wash his feet, and the feet of the men that were come with him.
33
And bread was set before him. But he said: I will not eat, till I tell my message. He answered him: Speak.
34
And he said: I am the servant of Abraham:
35
And the Lord hath blessed my master wonderfully, and he is become great: and he hath given him sheep and oxen, silver and gold, menservants and womenservants, camels and asses.
36
And Sara my master's wife hath borne my master a son in her old age, and he hath given him all that he had.
37
And my master made me swear, saying: Thou shalt not take a wife for my son of the Chanaanites, in whose land I dwell:
38
But thou shalt go to my father's house, and shalt take a wife of my own kindred for my son:
39
But I answered my master: What if the woman will not come with me?
40
The Lord, said he, in whose sight I walk, will send his angel with thee, and will direct thy way: and thou shalt take a wife for my son of my own kindred, and of my father's house.
41
But thou shalt be clear from my curse, when thou shalt come to my kindred, if they will not give thee one.
---
Ver. 41. Curse, which always attends the person who does not endeavour to comply with a lawful oath. H.
--- The Hebrews commonly added in this sense, May God do these things to me, and still more, if I prove false. M.
--- In this sense, Abraham's steward gives the meaning of his master, as he had hitherto repeated his very words at full length. This perfectly agrees with the style of the heroic ages; such as we find expressed in the poems of Homer, the most ancient work of any heathen author. The account which he gives of the noble simplicity of those ages, when the ladies went for water, and princes prepared the entertainments for their guests, cannot fail to strike us, when we compare the works of that admired author with the inspired writings. H.
---
42
And I came to day to the well of water, and said: O Lord God of my master Abraham, if thou hast prospered my way, wherein I now walk,
43
Behold I stand by the well of water, and the virgin, that shall come out to draw water, who shall hear me say: Give me a little water to drink of thy pitcher:
44
And shall say to me: Both drink thou, and I will also draw for thy camels: let the same be the woman, whom the Lord hath prepared for my master's son.
45
And whilst I pondered these things secretly with myself, Rebecca appeared coming with a pitcher, which she carried on her shoulder: and she went down to the well and drew water. And I said to her: Give me a little to drink.
46
And she speedily let down the pitcher from her shoulder, and said to me: Both drink thou, and to thy camels I will give drink. I drank, and she watered the camels.
47
And I asked her, and said: Whose daughter art thou? And she answered: I am the daughter of Bathuel, the son of Nachor, whom Melcha bore to him. So I put earrings on her to adorn her face, and I put bracelets on her hands.
48
And falling down I adored the Lord, blessing the Lord God of my master Abraham, who hath brought me the straight way to take the daughter of my master's brother for his son.
49
Wherefore if you do according to mercy and truth with my master, tell me: but if it please you otherwise, tell me that also, that I may go to the right hand, or to the left.
---
Ver. 49. Left, in quest of some other lady of my master's kindred; as some of Bathuel's brothers might also have children. He was the youngest. H.
---
50
And Laban and Bathuel answered: The word hath proceeded from the Lord, we cannot speak any other thing to thee but his pleasure.
---
Ver. 50. Laban is placed before his father, having perhaps the administration of affairs in Bathuel's old age; and he had first introduced the stranger. M.
---
51
Behold Rebecca is before thee, take her and go thy way, and let her be the wife of thy master's son, as the Lord hath spoken.
52
Which when Abraham's servant heard, falling down to the ground he adored the Lord.
53
And bringing forth vessels of silver and gold, and garments, he gave them to Rebecca for a present. He offered gifts also to her brothers, and to her mother.
---
Ver. 53. Present. Thus ratifying what he had already done, (v. 22.) and obtaining full consent, both of the virgin, and of her father and brother.
---
54
And a banquet was made, and they ate and drank together, and lodged there. And in the morning, the servant arose, and said: Let me depart, that I may go to my master.
---
Ver. 54. Morning. He loses no time to afford comfort to his masters, and to give proof that he was not esteemed by them without reason.
---
55
And her brother and mother answered: Let the maid stay at least ten days with us, and afterwards she shall depart.
56
Stay me not, said he, because the Lord hath prospered my way: send me away, that I may go to my master.
57
And they said: Let us call the maid, and ask her will.
---
Ver. 57. Let us call the maid, and ask her will. Not as to her marriage, as she had already consented, but of her quitting her parents and going to her husband. Ch.
---
58
And they called her, and when she was come, they asked: Wilt thou go with this man? She said: I will go.
---
Ver. 58. I will go, without delay, being well convinced that the good steward was directed by God. Hence she was guilty of no imprudence or levity, in yielding herself up to the divine will, and consenting so readily to the proposed marriage.
---
59
So they sent her away, and her nurse, and Abraham's servant, and his company,
60
Wishing prosperity to their sister, and saying: Thou art our sister, mayst thou increase to thousands of thousands, and may thy seed possess the gates of their enemies.
61
So Rebecca and her maids, being set upon camels, followed the man: who with speed returned to his master.
62
At the same time Isaac was walking along the way to the well which is called Of the living and the seeing: for he dwelt in the south country.
---
Ver. 62. The well of Agar, not far from Bersabee.
---
---

---
63
And he was gone forth to meditate in the field, the day being now well spent: and when he had lifted up his eyes, he saw camels coming afar off.
---
Ver. 63. To meditate on the obligations of the state on which he was about to enter, and on other pious subjects, free from noise and distraction. H.
--- In profane authors, the word used by the Sept. means to talk about trifles, &c. C.
--- But the known piety of Isaac, and the authority of that version, forbid that we should take it here in that sense. H.
---
64
Rebecca also, when she saw Isaac, lighted off the camel,
---
---
65
And said to the servant: Who is that man who cometh towards us along the field? And he said to her: That man is my master. But she quickly took her cloak, and covered herself.
---
Ver. 65. Cloak, or summer veil, covering the whole body, and having an opening only for the eyes; such as the Eastern ladies use. S. Jer. in Isai. iii. Rebecca does this out of modesty. H.
--- She prefigures the Gentiles, whom Jesus calls by his servants laden with his gifts, to become his spouse, or his Church, (C.) at the fountain of baptism. He adorns her with the ear-rings of obedience, and the bracelets of good works. D.
---
---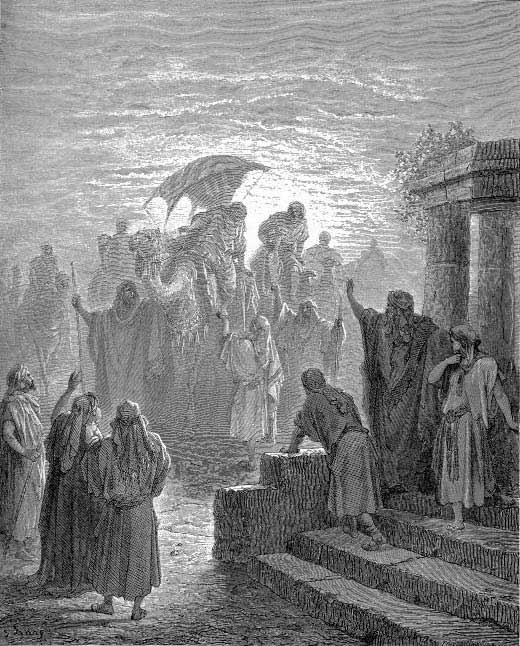 ---
66
And the servant told Isaac all that he had done.
67
Who brought her into the tent of Sara his mother, and took her to wife: and he loved her so much, that it moderated the sorrow which was occasioned by his mother's death.
---
Ver. 67. Mother's death, which happened about three years before. M.
--- Isaac was now forty years old, and yet he does not pretend to take a wife for himself; leaving the choice to his good father, and to God. D.
---