A
ND rising up from thence, he cometh into the coasts of Judea beyond the Jordan: and the multitudes flock to him again. And as he was accustomed, he taught them again.
---

---
2
And the Pharisees coming to him asked him: Is it lawful for a man to put away his wife? tempting him.
---

---
3
But he answering, saith to them:

What did Moses command you?
4
Who said: Moses permitted to write a bill of divorce, and to put her away.
---
Ver. 4. Moses permitted the injured husband to send away his wife, declaring that he had repudiated her. See Deut. xxiv. 1.
---
---

---
5
To whom Jesus answering, said:

Because of the hardness of your heart he wrote you that precept.
---
Ver. 5. Because of the hardness of their hearts, and to prevent the excesses they would otherwise have committed with regard to their wives. V.
---
6
But from the beginning of the creation, God made them male and female.
---
Ver. 6. But from the beginning of the world it was not thus; for then God only formed one man and one woman, that they might be exclusively and invariably attached to each other.
---
---

---
7
For this cause a man shall leave his father and mother; and shall cleave to his wife.
---
Ver. 7. Hence it is written, (Gen. ii. 24, and Matt. xix. 5.) A man shall leave father and mother, and adhere to his wife.
---
---

---
8
And they two shall be in one flesh. Therefore now they are not two, but one flesh.
---

---
9
What therefore God hath joined together, let not man put asunder.
---

---
10
And in the house again his disciples asked him concerning the same thing.
11
And he saith to them:

Whosoever shall put away his wife and marry another, committeth adultery against her.
---

---
12
And if the wife shall put away her husband, and be married to another, she committeth adultery.
13
And they brought to him young children, that he might touch them. And the disciples rebuked them that brought them.
---

---
---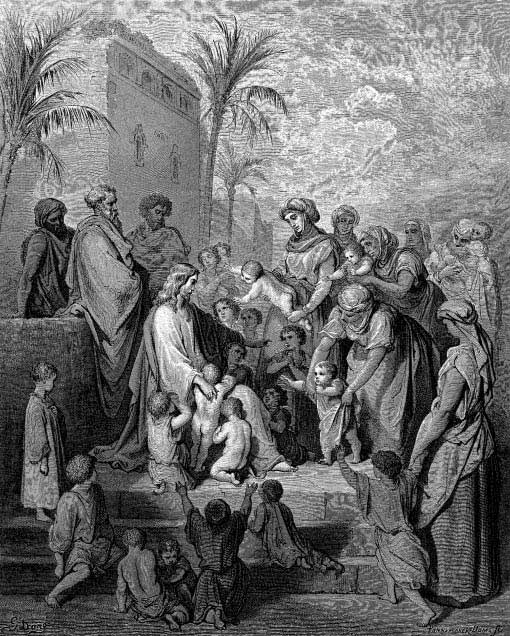 ---
14
Whom when Jesus saw, he was much displeased, and saith to them:

Suffer the little children to come unto me, and forbid them not; for of such is the kingdom of God.
---
Ver. 14. Unless we are possessed of the innocence and purity of little children, we cannot enter the kingdom of heaven. By the kingdom of heaven, we may here understand the truths of the gospel; for as a child never contradicts its teachers, nor opposes to them vain reasonings and empty words, but faithfully and readily receives their instructions, and with fear obeys them; so must we implicitly obey, and without any, the least, opposition, receive the word of the Lord. Ven. Bede.
---
---
---
15
Amen I say to you, whosoever shall not receive the kingdom of God as a little child, shall not enter into it.
16
And embracing them, and laying his hands upon them, he blessed them.
17
And when he was gone forth into the way, a certain man running up and kneeling before him, asked him, Good Master, what shall I do that I may receive life everlasting?
---

---
18
And Jesus said to him,

Why callest thou me good? None is good but one, that is God.
---
Ver. 18. None is good. Of himself, entirely and essentially, but God alone: men may be good also, but only by a participation of God's goodness. Ch.
---
19
Thou knowest the commandments: Do not commit adultery, do not kill, do not steal, bear not false witness, do no fraud, honour thy father and mother.
---

---
20
But he answering, said to him: Master, all these things I have observed from my youth.
---
Ver. 20. We must recollect, that to the faithful observers of the Mosaic law, not only present goods were given, but the happiness of a future life promised. Hence our Lord with reason inquired, whether he had kept the commandments. The innocent life of this young man is deserving of our imitation. Ven. Bede.
---
21
And Jesus looking on him, loved him, and said to him:

One thing is wanting unto thee: go, sell whatsoever thou hast, and give to the poor, and thou shalt have treasure in heaven; and come, follow me.
---
Ver. 21. Loved him. We need understand no more by this, than that Christ gave him some marks of his tenderness for him, and for all men by his kind instructions, and invitations to a good and perfect life. Wi.
--- It is worthy of inquiry, how that could happen which the evangelist here mentions, how Jesus could love this young man; when, as it is here related, he did not follow the admonitions given him by Jesus Christ. The reason is, Christ loved him for his past behaviour, and his strict observance of the old law. S. Chrys. in S. Thom. Cat. aur.
---
22
Who being struck sad at that saying, went away sorrowful: for he had great possessions.
23
And Jesus looking round about, saith to his disciples:

How hardly shall they that have riches, enter into the kingdom of God!
24
And the disciples were astonished at his words. But Jesus again answering, saith to them:

Children, how hard is it for them that trust in riches, to enter into the kingdom of God?
25
It is easier for a camel to pass through the eye of a needle, than for a rich man to enter into the kingdom of God.
26
Who wondered the more, saying among themselves: Who then can be saved?
27
And Jesus looking on them, saith:

With men it is impossible; but not with God: for all things are possible with God.
28
And Peter began to say unto him: Behold, we have left all things, and have followed thee.
---
Ver. 28. Although S. Peter had left but few things, he still calls them his all. For small things have power of attaching us to them, and of exciting our passions; therefore he that forsakes his small possessions, shall be a partaker of the blessings of Jesus Christ. Theophylactus.
---
---

---
29
Jesus answering, said:

Amen I say to you, there is no man who hath left house or brethren, or sisters, or father, or mother, or children, or lands, for my sake and for the gospel,
30
Who shall not receive an hundred times as much, now in this time; houses, and brethren, and sisters, and mothers, and children, and lands, with persecutions: and in the world to come life everlasting.
31
But many that are first, shall be last: and the last, first.
---

---
32
And they were in the way going up to Jerusalem: and Jesus went before them, and they were astonished; and following were afraid. And taking again the twelve, he began to tell them the things that should befall him.
---
Ver. 32. Christ goes before, to shew his eagerness to suffer the ignominies and torments of his approaching passion, for our salvation. Theophy.
--- But the disciples being already forewarned of what their Master was to suffer from the high priest and Scribes, went along the road to Jerusalem, with silent fear and trepidation, either lest they should be put to death with him, or lest he, whose life and doctrines they enjoyed, should fall into the hands of his enemies. But our kind Redeemer, foreseeing that the minds of his disciples were disturbed, comforts them with the assurance of his resurrection. Ven. Bede.
---
---

---
33
Saying:

Behold we go up to Jerusalem, and the Son of man shall be betrayed to the chief priests, and to the scribes and ancients, and they shall condemn him to death, and shall deliver him to the Gentiles.
34
And they shall mock him, and spit on him, and scourge him, and kill him: and the third day he shall rise again.
35
And James and John the sons of Zebedee, come to him, saying: Master, we desire that whatsoever we shall ask, thou wouldst do it for us:
---
Ver. 35. S. Matt. (xx. 20.) says it was their mother, Salome, but probably at their solicitation, or at least with their connivance and consent.
---
---

---
36
But he said to them:

What would you that I should do for you?
37
And they said: Grant to us, that we may sit, one on thy right hand, and the other on thy left hand, in thy glory.
38
And Jesus said to them:

You know not what you ask. Can you drink of the chalice that I drink of: or be baptized with the baptism wherewith I am baptized?
39
But they said to him: We can. And Jesus saith to them:

You shall indeed drink of the chalice that I drink of: and with the baptism wherewith I am baptized, you shall be baptized.
40
But to sit on my right hand, or on my left, is not mine to give to you, but to them for whom it is prepared.
41
And the ten hearing it, began to be much displeased at James and John.
---

---
42
But Jesus calling them, saith to them:

You know that they who seem to rule over the Gentiles, lord it over them: and their princes have power over them.
---
Ver. 42. Who seem to rule over the Gentiles, &c. See Matt. xx. 25, and Luke xxii. 25. Wi.
---
---

---
43
But it is not so among you: but whosoever will be greater, shall be your minister.
---
Ver. 43. In vain then do men either seek for immoderate power, or sigh after human greatness; for, not power, but humility, is the sure and only path to the summit of perfection. He then proves to them by his own example, that if they would not believe his words, they might at least learn by his example. Ven. Bede.
---
44
And whosoever will be first among you, shall be the servant of all.
45
For the Son of man also is not come to be ministered unto, but to minister, and to give his life a redemption for many.
46
And they came to Jericho: and as he went out of Jericho, with his disciples, and a very great multitude, Bartimeus the blind man, the son of Timeus, sat by the way side begging.
---
Ver. 46. Bartimæus is a Syriac word, and signifies, son of Timæus.
---
---

---
47
Who when he had heard, that it was Jesus of Nazareth, began to cry out, and to say: Jesus son of David, have mercy on me.
48
And many rebuked him, that he might hold his peace; but he cried a great deal the more: Son of David, have mercy on me.
49
And Jesus, standing still, commanded him to be called. And they call the blind man, saying to him: Be of better comfort: arise, he calleth thee.
50
Who casting off his garment leaped up, and came to him.
51
And Jesus answering, said to him:

What wilt thou that I should do to thee?

And the blind man said to him: Rabboni, that I may see.
---
Ver. 51. Let us endeavour sedulously to imitate the good example of this blind man, who did not ask for honours, riches, or other worldly advantages, but only that he might receive his sight; that he might behold the light with the blessed angels, to which faith alone can conduct us. Ven. Bede.
--- In this worse than Cimmerian darkness, how few are found, who pray as they ought for this all-necessary light of faith!!!
---
52
And Jesus saith to him:

Go thy way, thy faith hath made thee whole.

And immediately he saw, and followed him in the way.